Chad Valley Mini Electronic Kitchen £4.99 @ Argos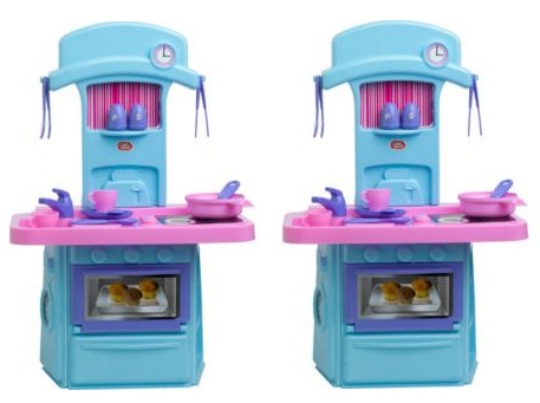 Does you little one want a play kitchen and you don't have the space for one? Well, look what us lovely Playpennies folk have found you. The Chad Valley MINI Electronic kitchen and it's half price at a teeny tiny £4.99 from Argos. Bet your glad you don't have the space now, big ones cost big bucks.
Were you one of the lucky ones that managed to bag a playhouse bargain at the end of the summer? If so then this Chad Valley Mini kitchen would be a great addition to one, not to mention affordable. Even without the playhouse, this will nestle nicely in a small bedroom and provide plenty of role play fun.
The Chad Valley Mini Electronic kitchen is suitable for children aged three years and above. It comes with fourteen accessories like crockery, cutlery and a frying pan. Plus it makes bubbling and sizzling cooking sounds to make your childs cooking experience seem more believable. The oven door can open and there's a sink too.
For just £4.99 the Chad Valley Mini Electronic kitchen is an ideal Christmas purchase and a great value toy. Collect yours free from you local Argos store or pay £2.95 to have it delivered to your front door. There's plenty of stock across the United Kingdom so go take a look.