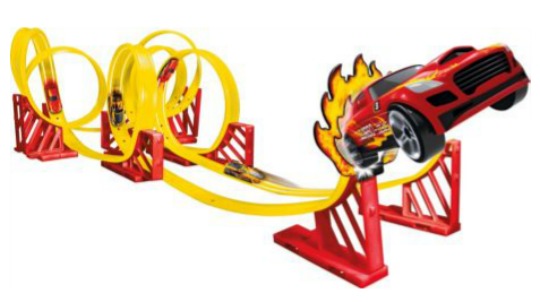 This one was £19.99, then down to £7.99 and has now reached £4.99.
In this Mega Multi Loop Track Set you get 6 metres of looped track and 2 muscles cars and it's billed as being an "ideal gift".
The reviews on this one are completely mixed, one reviewer felt it was "rubbish" and "very thin plastic" while another commented :
Bought this for my friends 2 year old son, but his older brother thinks it's fantastic and has hours of fun with it. Got this when it was in a sale so very pleased.
I think that last line is very telling. If you pay £19.99 for something, your expectations are very different than when you pay £7.99, or even today's price of £4.99. I'm inclined to give it a go, my daughter picks up magazines in supermarkets that cost the best part of £5 and barely get a second glance.
Seems to be plenty of stock around on these and you can reserve if for collection at an Argos near you. You can also opt for home delivery but that will add £3.95 to your overall cost.
What do you think?