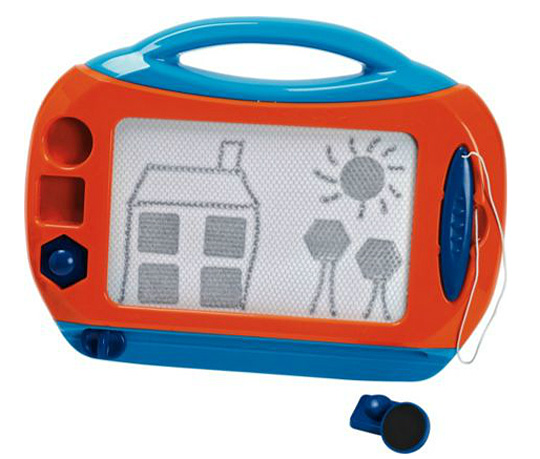 If you head over to Argos, you'll be able to pick up a Chad Valley Magic Writer for £3.99 - now I don't know whether this has been discounted or not, and Amazon don't have stock and don't know when they'll be getting any either, so I can't run a price comparison either.
But what I do know is this: for £3.99 (discounted or not) any child who's old enough to pick up a pencil and scribble with it will enjoy playing with this Chad Valley Magic Writer.
My youngest son, Edward, had something very similar to this Chad Valley Magic Writer when he was little (I was reliably informed that at nearly six-and-a-half he's not little any MORE!) and he L.O.V.E.D it!
I have to tell you that he wasn't the only one either - everyone in the family had too much fun drawing pictures on the special magnetic board and stamping patterns with the stamps that came with it.  We didn't just draw pictures on it though - it was great for learning how to write and recognise letters too.
Things like this Chad Valley Magic Writer are fab for keeping kids occupied when you're out and about.  The reviews from existing owners are great too, so you don't just have to take my word for it:
"Bought this for my 2 an a half yr old. She loves it, great mess free way for her to draw. She never puts it down, works out alot cheaper than buying loads of paper."
"I bought this for my 2 1/2 year old son and he loves it. It seems quite robust and easy for him to hold and he spends quite a bit of time drawing on it. For the price you can't beat it!"
You can choose whether or not to collect your Chad Valley Magic Writer from your Argos store of choice, or having it delivered - which will cost you an additional £3.95.
Thanks to batmans_cat at HUKD