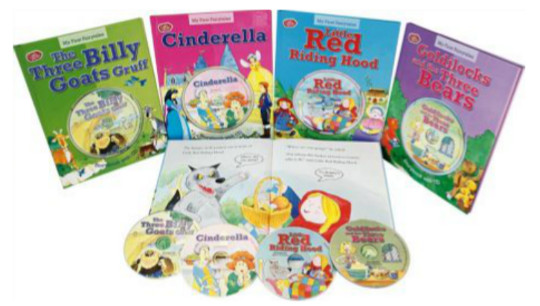 This is such a good offer, I think you're going to have to move fast to find stock and unfortunately it's not available for home delivery. Argos are selling four Chad Valley kids books and a CD collection for £2.99 instead of £9.99.  It seems this set has previously been on sale for £3.99, but this is cheaper regardless.
Have you ever noticed how violent children's fairy tales are? It's pretty bad, actually, and hair raising! But they're called Grimm's for a reason, I guess!
The four books in the set are Three Billy Goats Gruff, Cinderella, Little Red Riding Hood and Goldilocks and the Three Bears. Each story comes with it's own CD. There are nineteen reviews of the product and generally people are really pleased with it and say they can't fault it, especially for the price.
One reviewer writes: "There are words and pictures on the back page for extra learning, which is really good. I thought they were such good value, I purchased another 3 sets to give out as presents. They would still be very good value if the full price had been paid."
Thanks to Avantine at HUKD