Chad Valley Inflatable Children's Chair £1.99 @ Argos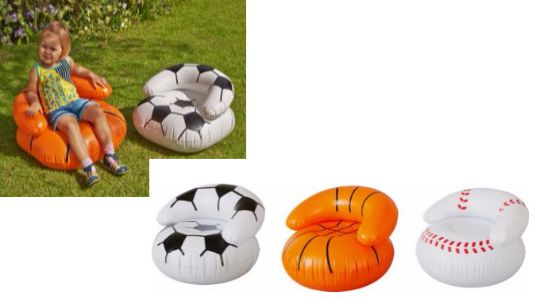 I have been looking for a little armchair or stool for my youngest to sit on to read. The thing is most of the ones I have seen are bulky and I don't fancy a cluttered room for when we are playing games that require space. Argos are selling the Chad Valley Inflatable Children's Chair for just £1.99, reduced from £3.99. Plus if you are needing a few of them, then they are on 3 for 2, meaning you can get THREE chairs for just £3.98. What a bargain!
There are many pluses to getting an inflatable chair for a kids room. They are easy to lift and transport around the house, they can be used outdoors and deflated and stored flat when not in use. I wish you could get inflatable everything for a kids room. My son is forever falling over and knocking himself on furniture.
It looks like there's a choice of three designs: a basketball, baseball and football. If you want a specific one then it'll probably be a case of telling the stock picker when you are collecting it.
You can Reserve and Collect the Chad Valley Inflatable Children's Chair for FREE from an Argos store near you or pay £3.95 to have it delivered to your front door.