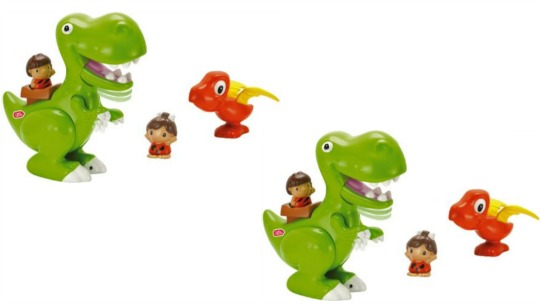 I don't know about you but my kids are forever bringing home party invites. I have had to set up a little present box that has lots of little bargains I find of toys that are perfect for last minute party invitations. It's the best way to do it and saves me money, as you always spend more when you panic buy. A great wee pressie to tuck away for any upcoming parties is this Chad Valley Dino World Set from Argos. It was £19.99 then got reduced to £7.99 and is now only £5.99.
The Chad Valley Dino World Set's main feature is the moveable dinosaur. His arms and legs move and he makes loud roaring and stomping sounds. A must for any dinosaur daft child.
It comes with another dinosaur too as well as two cavepeople. They fit into the saddle on the big dinosaur and can ride him. This looks to be a great little set for a small child.
You can reserve and the Chad Valley Dino World Set from Argos for FREE or pay £3.95 for home delivery.
Thanks to L0u33z @ HUKD