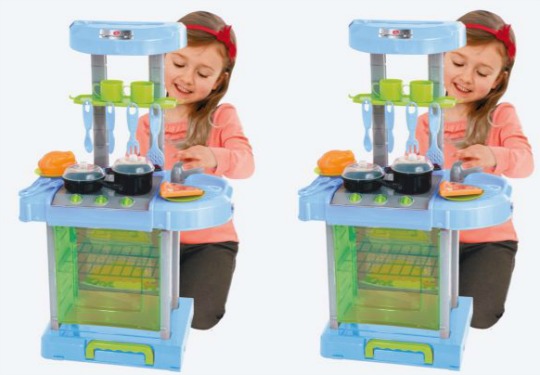 Wow! This is a bargain! Argos have the Chad Valley Cook & Go kitchen for only £7.99. I don't think I have ever seen a brand new play kitchen for this price. It started out at £19.99 then got reduced to £8.99 and now Argos have sliced off another £1.
The Chad Valley Cook & Go kitchen playset is suitable for children over the age of three. It's not massive but is big enough to be believable as a role play kitchen. With a sink, hob and oven this toy kitchen has plenty to keep your child occupied for hours on end. Features include, lights and cooking sound effects, and fifteen accessories.  Not to mention it even comes in a carry case so it can be stored easily.
I think you can agree that for £7.99 that's a lot of toy for your money. Kids love role play toys like this, and I think this would be a great buy for Christmas. You could also give one as a birthday gift if your child has any parties coming up. Just think how generous you would look handing one of these over.
The Chad Valley Cook & Go kitchen can be reserved and collected from your local Argos for free or you can pay £3.95 to have it delivered.