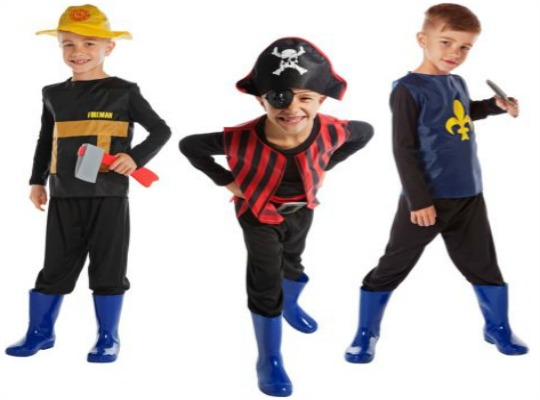 My boys have a chest of drawers full of dressing up clothes. They have always loved playing in character. I think it's an utter fallacy that it's only girls that like dressing up, and I think the retailers are finally catching on to that. This Chad Valley I Can Be Brave Dress Up Trunk is an awesome present to give someone for Christmas, girl or boy. Plus it's reduced to just £12.49 having been sold previously at £29.99.
Chad Valley always make fun toys. I just LOVE this trunk. All the costumes, and you get three by the way, and the accessories come in a trunk. Nice, neat storage that is easy accessed by little ones wanting to play dress up.
As this particular Chad Valley Dress Up set's theme is "I Can Be Brave" the costumes included are a fireman, a pirate and a knight. The kit contains twelve items to create these fantastic role play costumes.
If you are looking for something a touch more "girly" then check out the I Can Be Sparkly Trunk* for just £14.99.
Delivery is £3.95, which may seem appealing at this time of year, but if you want to avoid that charge then you can collect your order from your local Argos for FREE