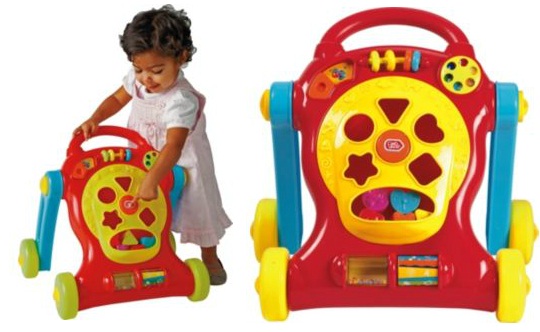 The Chad Valley Baby Walker has been reduced at Argos to £9.99, down from £16.99. That's a saving of £7.
In my experience, babies love these walkers. I don't think they're a necessary item. A baby looking to walk will pull themselves up on anything that's too hand, particularly sofas and chairs. But I remember my son with one of these when he was a year old, laughing as he ran with one up and down the living room for absolutely ages.
The Chad Valley Baby Walker is a red and yellow brightly coloured baby walker. According to the manufacturer, it will provide "lots of fun and exciting activities for little ones". Activities on the walker include a shape sorter, a counter and a rattle. It certainly does sound like it is a great toy for when baby has started learning how to walk.
I couldn't see any customer reviews so I'm not sure what the quality of the walker is like. From the photos it doesn't look as solid as the VTech one for example. Those last forever though, so make a good investment if you've a few children or a large family to pass it on to. One thing about these baby walkers is that they're not used for that long!
Thanks to atiqkamran at HUKD!