Chad Valley 6v Techno Mega Quad £59.99 Delivered @ Argos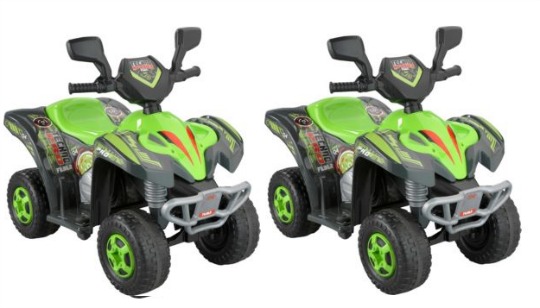 Bargain alert! Argos have these Chad Valley 6v Techno Mega Quad Bikes for £59.99 each delivered. These were originally £129.99, then reduced to £97.49 and now at the sub £60 mark.
Suitable for little people of three and over, this quad toy is run by a 6v battery that is included. Brightly coloured, this little quad is a nice looking replica of something you'd see tackling the sand dunes down at the beach. However, I really don't think this would manage with anything more than a bump in the grass.
I always wish they had these battery operated ride ons when I was a tot. They look amazing. There's a little girl that lives in my street and she is as cool as a cucumber on her pink quad. She even takes it into the supermarket.
These only have a forward gear and go a maximum speed of 2.61 mph. With a charge time of 10 hours, it will run for 40 minutes solid. A charger is included with this quad.
It's certainly the time of year for outdoor toys like this. With approximately £69 off the original selling price, this is a very attractive option for those of you looking for an electric ride on toy for their little one.
Delivery is free but if for any reason you would prefer to collect it, you can do so by reserving online.