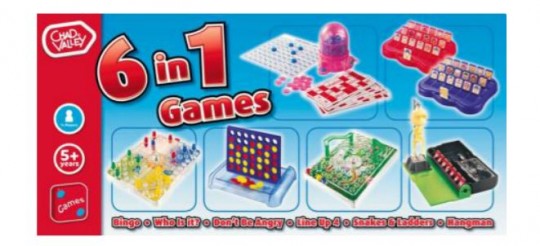 We had a quiet family break to Snowdonia recently, with plenty of sitting indoors looking out the window at the mountain views planned. An idealistic hope, at best, with two children under 5, but then leaving home with their Trunki full of activities left standing by the front door was pretty much a recipe for disaster. Fortunately we found a toy shop in a nearby village and bought the Chad Valley 6 in 1 Games set*(£9.99).
As the name suggests, the set contain six board games, all in miniature. There are a few things about this particular compendium of games that I found quite unique and worth mentioning to anyone going on holiday soon, or just wanting to add some variety to your indoor entertainment, so read on to find out more. 
At under £2 a game, I can't say I expected much, and was, overall, pleasantly surprised. The games included are board game regulars like Snakes and Ladders, Who's Who and Line Up Four, but there are also Bingo, Don't Be Angry and Hangman.
These are miniature board games, which should be kept in mind, so the game pieces and boards themselves are small and can be quite fiddly. There's no actual 'set up' time required, and the die that come with it are encapsulated in little spaceship like things which are perfect for shaking and getting your number without losing the teeny little squares. Seriously, I thought this was a stroke of genius making the set suitable even for car games.
The Snakes and Ladders board has 3D ladders and angled slots for the snakes, so the accompanying balls (the markers) just roll up or down. It's pretty clever and interactive. That said, however, keeping the larger of the two ladders upright is somewhat problematic, as it doesn't seem to fit into its slot. We removed it eventually and just played with the built in ones.
The Hangman is pretty fun too - gone are the days of drawing your hanging man with pen on paper. The skeleton hangs from a plastic contraption, waiting to be built. The pieces are very fine though. We lost an arm almost immediately upon opening the set, which is unfortunate. It's still pretty cool though - we just have to guess the word faster now.
My four year old's favourite game is Who's Who, and we played that 100's of times during the week, with the ocassional round of Bingo thrown in, for good measure.
Considering how much use we got out of the set in one week, and the fact that it's now in our holiday box and will go with us next time again, I'd say it's really good value for under £10. Even the facilities at the resort cost us £2 for 20 minutes on the tennis court, table tennis, snooker table and so on, so this was a much, much better purchase.
Yes, it's miniature, yes, it's a bit fiddly, and yes, some bits could go missing, but it all fit back into the box, most of the games are pretty self-contained, and it cost less than a round of hot chocolate, so good value in my book.
(There seems to be two versions of the set with a few variations in the games included. Make sure to double check that you're getting the one you want!)