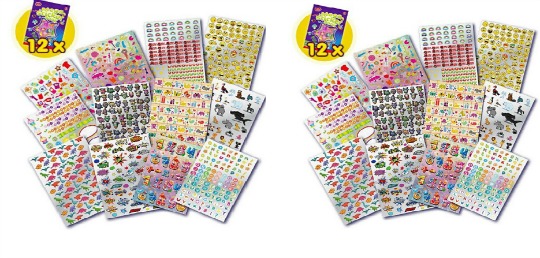 I am going to let you into a little secret, you may already know it, but here it goes, kids LOVE stickers! Stickers can bribe your child into the dentist's chair, onto the examination bed at the Doctors, to behave at school, the list is endless. Buy these and who knows, you may be able to get your child to clean the house from top to bottom, then give you a foot massage. Get over to Argos where they have slashed the price of this Chad Valley 10,000 piece Sticker Book. It's only £3.99, what are you waiting for?
The Chad Valley Sticker Books contain 10,000 stickers! There's twelve books, with themed stickers like animals, numbers and letters. Plus some are glittery, foil or glow in the dark.
My children can really try my patience at times, not when we have the reward chart in full swing though. My middle son, likes to wear his stickers like medals of honour instead of having them on his chart. With an abundance of children, you can really get through lots of stickers.
Reserve and collect your Chad Valley 10,000 piece Sticker Book for FREE from your local Argos store or pay £3.95 for home delivery.
Thanks to staceybaby @ HUKD