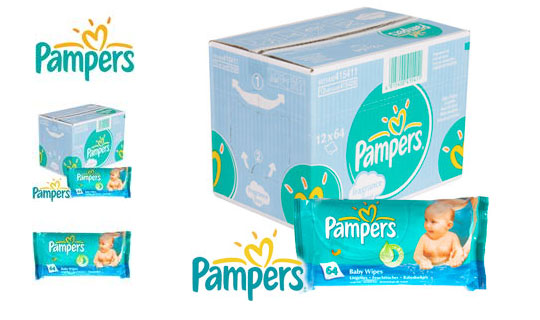 If you buy your baby wipes in bulk you can save yourself a whole heap of cash in the long run - you know, I dread to think how much money I've spent on baby wipes during the 18 and a bit years of my parenthood life!
A case of 12 packs of 64 Pampers baby wipes, with or without Vitamin E and fragrance free if you wish, will only set you back £11.88, rather than £29.64.
I've lost track of how many times I've told you about baby wipes, Pampers or others! But they're just so useful, and even though I don't have small babies or really young children any more there are always baby wipes around the house and in the car.
My mum discovered that they're also rather great for bringing up bathroom taps all shiny and sparkly (don't ask me what on earth made her try it, I have NO clue!) and also clean around the base of them rather effectively too.
I'm sure the bathroom taps won't appreciate that these Pampers baby wipes are soap and alcohol free, along with being dermatologically tested, but anyone with skin will!
You can arrange to collect your case of Pampers baby wipes from your local Home Bargains store for free, or you can pay a few pounds extra and have them delivered to you instead.
Happy wiping!