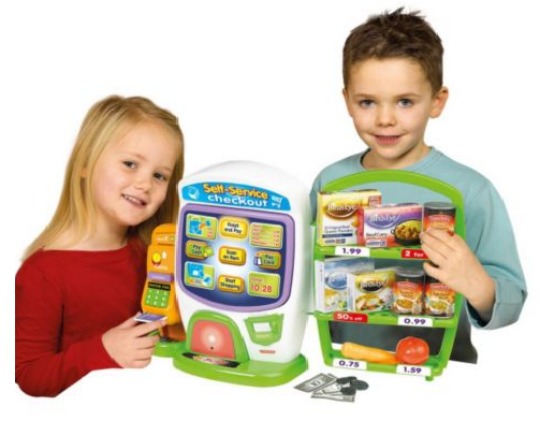 We all loath them in real life, but they are the future of the supermarket apparently. Self-service checkouts with their electronic annoyance. I guess it was inevitable that they would be made into a role play toy. After all, kids love the real deal in the supermarket.
Boots.com have the Casdon Talking self-service checkout at £10 just now. With an original price of £20, this is half price. In comparison it's £16.99 on Amazon, £19.99 at the ELC, £19.99 at Argos and £16.99 at Tesco.
This role play set is quite impressive in detail, with it's light sensor for scanning food, chip and pin device, paper receipts and voice commands. Let's just hope that it isn't as annoying as the real deal.
It comes with pretend food, pretend money (notes & coins) and, a pretend credit card. How cool is that? This set isn't huge but is large enough to give a good enough effect of a supermarket self-serve checkout.
I feel a lot of role play toys are geared towards girls, but this is suitable for both genders. There's hours of imaginary fun to be had with one of these. For £10, I think it's worth it.
It's suitable for age three and above. Why not get organised for Christmas whilst it's such a good price, or pop one away for any birthday parties that are coming up.
Collect from your local Boots store for £1.95 (free if you spend £20 or more) or pay £2.95 to have it delivered to your door.