Casdon Henry/Hetty Cleaning Trolley £10.39/£9.99 @ Amazon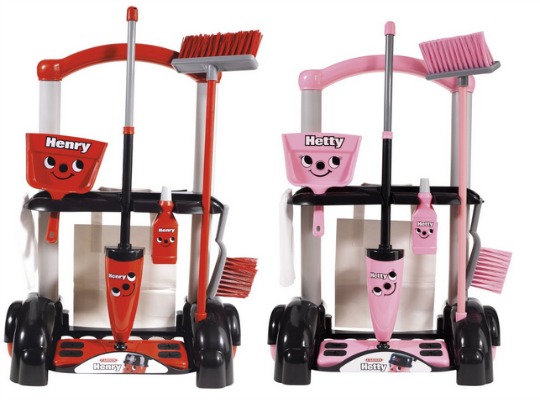 The Casdon Henry/Hetty Cleaning Trolleys proved popular the last time we shared them with you. Just now, if you go over to Amazon you will see that the Henry Cleaning Trolley is only £10.39 with FREE delivery included and the Hetty one is just £9.99. In order to get FREE delivery on Hetty, you will need to spend 1p or more.
The Casdon Henry/Hetty Cleaning Trolleys contain the same items, except the Henry is red and the Hetty set is pink. As well as the cleaning trolley a Henry Branded Mop with cloth, a broom, a brush, a dust pan, a bottle and a waste bag.
I am a fan of these. We seem to have role play toys of all the "nice" things so why not teach the kids how to clean. It's such an important life skill and with this it is made fun for a little one.
Just think every time you go to do your cleaning, you will have someone carting about after you with their Henry or Hetty Cleaning Trolley. It's nice to get help, right?