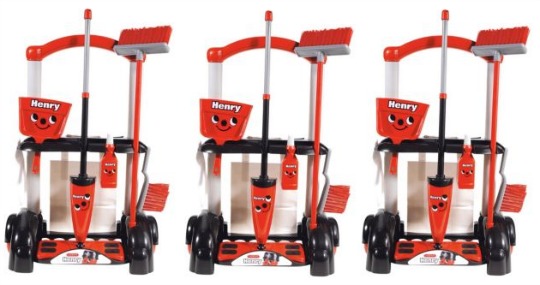 I have to admit I am a bit smitten with this Casdon Henry Cleaning Trolley from Argos. Okay, so it's only £11.99 with free delivery. That's not all, I find this set utterly adorable, I just have to buy one to put by for Christmas. This is around the £15 mark elsewhere, so it's a nice saving.
First of all, you get the nifty wee trolley to cart about all your cleaning equipment. What else is included? A mop, fabric floor cloth, dustpan and brush, detergent bottle (empty of course), a little paper container and a long handled broom. Everything included comes with Henry's cute face on.
You will constantly hear me bleating on about my gift of many sons. I am very conscious of the fact that it is my job to teach them domestic duties. My eldest son is spot on, he is generally tidy by nature. Ben on the other hand, oh dear Lord, that boy is like a tornado.
Role play toys like this are super for getting their imagination running wild. And, perhaps get them interested in cleaning from a young age. Well, we can try our hardest, can't we?
You can't reserve and collect on this item but like I said it's free to have it delivered to your door.