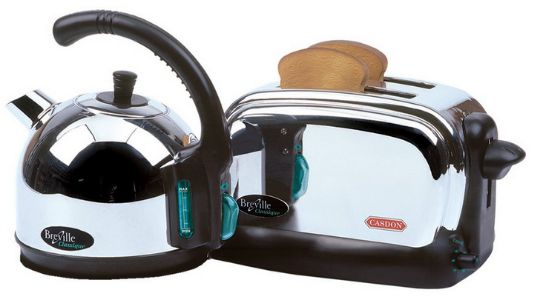 You can google toy kettle and it would come up with lots of cute lookalike toys. This Casdon Breville Classique Toy Kettle is by far my favourite, it really does look like the real thing. It comes in a set with a matching toaster and is only £8.65 at Amazon. It's currently priced at £11.99 over on the Argos site, so we say this is a bargain.
The Casdon Breville Classique Toy Breakfast Set has brilliant reviews, so if you are wondering what the quality is like have a read. In this set, as mentioned before, is a Breville Classique Toaster toy and matching Kettle.
The Toaster comes with toy toast that pops out when ready. According to the reviews, it's quite a noticeable pop too. The Kettle features an imitation water gauge and lid. Both are finished with a very realistic chrome effect.
You can have the Casdon Breville Classique Toy Breakfast Set delivered for FREE if you have Amazon Prime or you spend £20 or over. If you don't have AP and do not want to spend £20 or more then it'll cost you £3.30 to have it delivered.