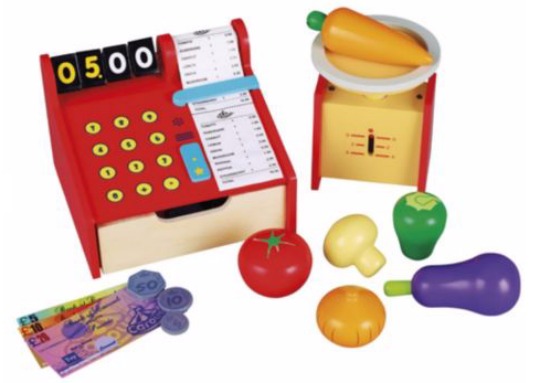 The Carousel Wooden Market Stall Accessories Set was selling for £30 and has now been reduced to a very reasonable £12 at Tesco Direct. If you like wooden toys then this set will be right up your street. It has been rated 4.2 stars on the Tesco Direct website and looks like a nice little set in it's own right. Some reviewers have said they have bought it to go with a market stall toy but to honest you don't need one, as your child has everything they need to play market or shop in this set.
What do you get in the Carousel Wooden Market Stall Accessories Set? A cash register, weighing scales, six wooden vegetables and play money. Made from responsibly sourced timber FSC® certified wood.
If you would like to have the matching market stall then you'll have to be patient as it's completely out of stock at Tesco Direct. You could of course get a big cardboard box and make it yourself.
You can Click and Collect the Wooden Market Stall Accessories Set for FREE from your nearest Tesco or pay £3 to have it delivered to your front door.