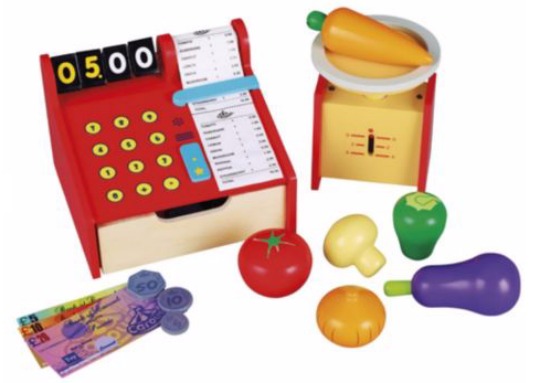 We told you about the Carousel Wooden Market Stall Accessories Set over a month ago. You guys when crazy for it and it sold out. It's back and Tesco Direct have shaved another £2 off of it, making it just £10. This lovely wooden set was originally £30, and to be honest I would never have paid that, £20 maybe but not £30.
The Carousel Wooden Market Stall Accessories Set was made to be with the Market Stall that Tesco Direct used to sell but trust me it works perfectly fine as a stand alone toy or with any other play shop. I bought one of these sets and I was impressed.
It contains a Wooden Cash Register, Weighing Scales, Six Wooden Vegetables and Play Money. Everything your little one needs to play shops or market stall.
It's suitable for children over the age of three and has a good rating on the Tesco Direct website. Think of those birthdays you have coming up where you want to buy something nice but don't want to be paying through the nose.
You can Click and Collect the Carousel Wooden Market Stall Accessories Set for FREE from a Tesco store near you or pay £3 to have it delivered to your front door.