Buzzing Brains Press N Go Dump Truck £3.19 @ Kiddicare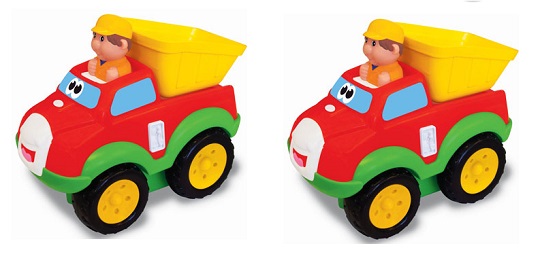 Right, so this little deal is quite the charmer. You can buy the very cute Buzzing Brains press N go dump truck for £3.19 instead of the usual price of £19.99. That's a whopping saving of 80% and this can be happily added to your growing pile of Christmas gifts.
The Buzzing Brains Press N Go dump truck is brightly coloured with some lovely bells and whistles. Simply push the plastic driver's head down and watch as the green, red and yellow vehicle speeds across the floor. Zoom!
You can wipe it clean whenever it gets a bit dribbled on and it comes with a little face, lots of space in the truck rear for toys (well, not very big toys) and the push n go action. It would make a lovely gift for anyone who wanted something sweet for a tot this Christmas.
Thanks to Beechwoodsmiths at HUKD!