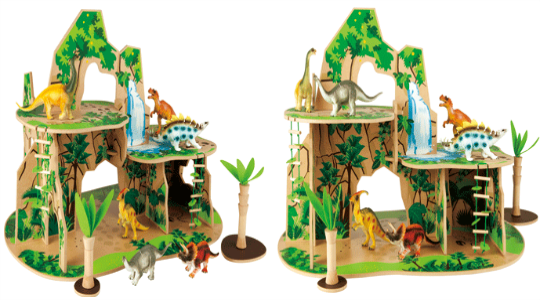 I managed to order some crackers when the latest toy sale started at Kiddicare a few days ago. Some of the things I bought have now sold out, but more toys have been reduced since, including this fantastic Dinosaur Park . It was on sale for a rather silly £49.99, but is now 70% off at just £15.
You do get rather a lot of toy for your £15 with this Dinosaur Park. It's 60cm wide (2 feet) and 43cm high (1.5 feet ish) which gives a nice big area for your dinosaur figures to explore. The set comes with 6 dinosaurs, and accessories like trees and rope ladders (presumably so that any other toys who wander into the park have an escape route).
The Dinosaur Park is made of wood, and is a sturdy chunky design which should stand up to a fair bit of imaginative play. My eldest is more into space and super heroes, but his best friend is mad on dinosaurs and I'm sure he would love this.
Kiddicare charge delivery at £2.99, or it's Free when you spend over £29.99.