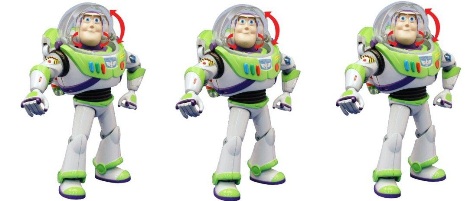 This particular Buzz Lightyear from Toy Story 3 is the uber awesome one that usually costs nearly £50. He has so many extras and features that I really, really wanted to get him but honestly couldn't justify the original cost. This is a great deal.
The Buzz Lightyear deluxe toy is ideal for ages four and up and comes with a soft rubber waist and a glow-in-the-dark green trim (awesome). If you press the blue button then he quotes Toy Story 3 phrases, the red button has him saying Space Ranger comments and the green button enables talkback mode.
With the last button kids can talk to Buzz and he'll actually respond, complete with head moving actions! Why am I so excited by this? I love this toy! He has a dome helmet that opens and closes with sound effects and phrases, and, of course, his awesome arm laser that shoots out a red light.
He even responds to standing up or lying down by making the appropriate flying or standing noises and phrases. This is really a deluxe toy and the new price is fab.
Thanks to garbage456 at HUKD!