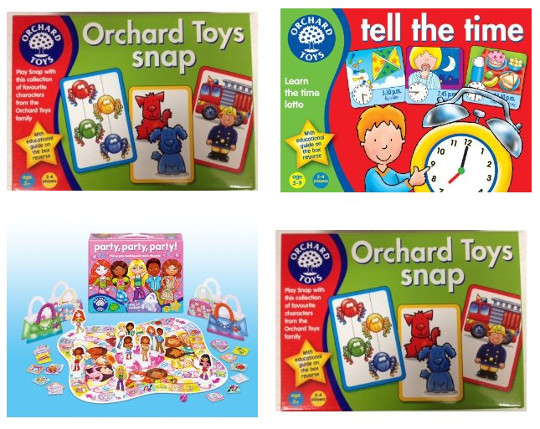 Initially this looks like a BOGOF offer, but it actually isn't. It's buy one of any of the toys, and get the SNAP game free. This game is worth £5.25 at Ocado, or £5.99 at Amazon. Seems like a great opportunity to stack up on some small gifts for parties, secret santas and so on, especially if you read on and see some of the ways you can benefit from it.
So you get the Snap game regardless of what you buy, so while you could get the most expensive toy, the Orchard Toys Giant Road for  £13.95 - it's £13.95 and up at Amazon - you could also buy the cheapest option, the Little Tractor Jigsaw for £4.95, and get both free. Two Orchard Toys for under £5 is not bad!
It's been so helpful to me to have a stack of toys in the cupboard, ready to go for the myriad of first birthdays we've had this year - seriously 2012 was a really high birth year in our area!
While the snap itself is probably more for older age groups, the cards are great for memory games for younger children too. My little one certainly loved play match and memory with her cards!
These will top up the cupboard nicely and should see us through the rest of the year.
Thanks to adslis at HUKD