Bugsby Reading System £12.99 @ Vtech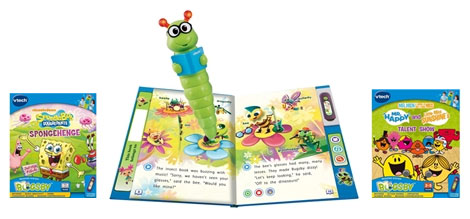 The folks over at Vtech have a special offer running on this Bugsby Reading System; they're selling him for less than half price, £12.99 instead of £29.99.
I must confess I'm a traditional book kind of girl.  I'm not a fan of electronic books and I gave my Kindle away as it just wasn't the same reading experience not being able to turn paper pages.
That said, if electronic books, like this Bugsby Reading System, are what it takes to encourage reading in youngsters aged between three and seven years old, then I'm all for them!
The Bugsby Reading System is an expandable system with other Bugsby story cartridge titles available featuring well-loved characters like Scooby Doo, Sponge Bob Square Pants and the Mr Men and Little Miss.
Vtech currently have half price deals on the story cartridges too, £5.99 instead of £12.99 .
The pen used to interact with the book is Bugsby himself -  a Bookworm who promises to take your child on magical adventures of reading and discovery, they can even create their own stories too.
Bugsby's little antennae light up, he has volume controls, a jack to plug headphones into (not included) and there's no need for additional computer software either, just put the story cartridges, and 3 AAA batteries (again, not included) into his back and he's ready to go!
The book itself is brightly coloured, durable and can be kept clean with a damp cloth.
You really aren't going to go wrong with this one.  I've written about him before and I still can't find anyone with a bad word to say about the Bugsby Reading System.
Standard delivery is £5 and usually takes no more than 48 hours.
Thanks to vikasbhasin at HUKD