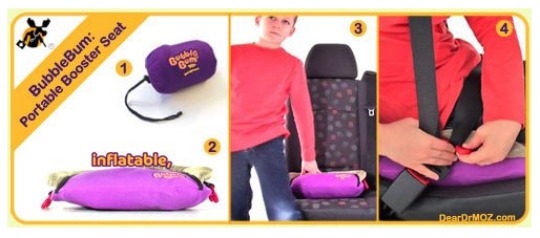 If you are out and about travelling this summer then this might solve the problem of not being able to carry a car booster seat everywhere. The BubbleBum Booster Seat is a compact, portable and inflatable booster seat, and it's new to Home Bargains at £14.99, at least £5 less than anywhere else that sells it.
No one is suggesting that an inflatable booster seat should be an alternative to a sturdy high backed booster car seat (at least I don't think they are!), but there are some situations where I can see something like this coming in very handy. Taxis, coach journeys, hire cars and as an emergency spare for the car boot maybe?
This BubbleBum Booster Seat is only designed for children aged between 4 and 11 years old, and is approved for Group 2 and 3 use with a standard three point car seat belt. Although it is much cheaper at Home Bargains, if you want more detailed safety information and specifications, as well as a lot of reviews than you can see more on the Amazon website listing here*.
My personal opinion is that for occasional use like taxis it must be better than no booster at all, but I also don't manage to do much travelling with my children. If you travel lots with your children I would love to hear your opinion on this product. Do you think it would be useful, or would you rather spend more and get something more like the Trunki BoostApak?