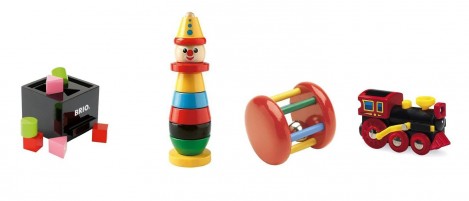 I'm not entirely sure why it is, but I love the look and feel of wooden toys. Perhaps its some oldy-worldy kind of nostalgia, a throw-back to my own childhood and playing with toys in my great-grandmother's front room. Or perhaps it's fear of BPA, PVC and all the other things we thought were 'child-safe' only to find out later that they aren't.
Either way, I love the range of wooden toys from Brio, and my little girl has a good supply of their stock right here in our home.
Brio toys are durable and well made. They are painted in bright colours with child-safe paints, and can withstand even the most hardy toddler's imaginative play.
Our first Brio toy was a Bell Rattle which my daughter would chase around the living room, stimulating her crawling from early on. Our next toy will be one of their pull along toys – either the helicopter or the giraffe, we're still trying to decide.
Brio also do beautiful wooden versions of some classics, such as the sorting box, and the stacking clown.
My Brio favourite has to be the wooden railway station though. So much cheaper than a 'real' railway model, and although aimed at children, some of the engines are battery powered, so I suspect dads love it too.
I'm a sentimental ol' thing, me. Not only do I love that the Brio toys are environmentally more friendly than plastic toys, but I also love that they last. I love the thought of my granddaughter playing with the same toys, and with a little bit of restoration and love, perhaps even her daughter.
I also like the feeling that Brio actually cares about my child – yes, I know they don't really, but I like feeling that they do – and that all their paints and parts have been checked and triple checked for safety, and that they are lead and other dangerous chemical free.
I only wish Brio had a larger range, but at least what they do offer is a very good starting point.