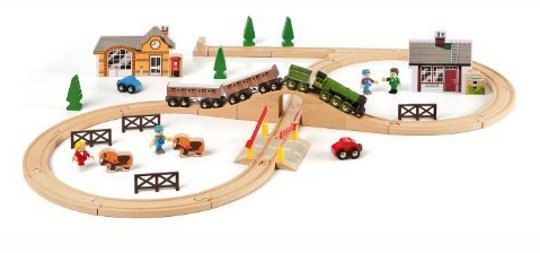 Amazon have 41% off the BRIO Flying Scotsman Train Set, and are selling it at £35.66 instead of £59.99, which really is a lovely saving.
The BRIO Flying Scotsman Train Set is a complete wooden train set, made up of 45 pieces.
There's a train, tender and two carriages, 20 wooden tracks in a figure of eight, including switching and stop tracks and a classic viaduct bridge. There are trees, people, houses and cars to stimulate hours of imaginative play.
The set is made durable and to BRIO's high standards.
The Flying Scotsman completed the first non-stop London to Edinburgh run on May 1st 1928 – 392 miles in 8 ¼ hours. In 1934 it became the first steam locomotive to record a fully authenticated speed of 100 miles per hour. This historic locomotive was acquired by the National Railway Museum,York,UK in 2004 and forms part of the National Collection. The world's most famous steam locomotive – No. 4472 "Flying Scotsman" – with Tender and two LNER Passenger Cars, all faithfully reproduced in wood in this lovely set.