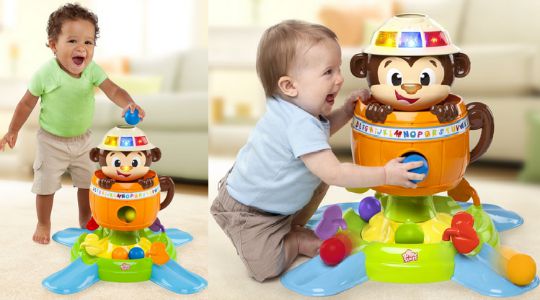 My son is nearly 18 months and is starting to lose interest in his current selection of toys. This suggests to me that he is needing to some new ones added to the mix. On looking, I found the Bright Starts Hide and Spin Monkey for just £20 over on the Amazon site. I had my eye on this before but it was £34.99 and I couldn't justify that amount of money for it. At £20 though, I will be snapping one up. As it's £20, Amazon will include FREE delivery with this item, making it an even better deal.
The Bright Starts Hide and Spin Monkey can be used to sit and play, when your child is younger or used stand and play , once your tot is that bit older.
This Light-up toy helps teach colours, shapes, and can play tunes and make monkey sounds. Your child puts the ball in the hat and watches it twirl around until it comes out at the bottom. It looks like great fun for a little person and something for mummy/daddy to join in on.