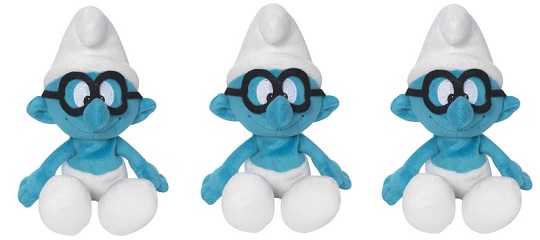 Toys R Us has got the cute and cuddly Brainy Smurf on sale at the moment. Brainy Smurf is normally     £9.99 but he's half price now at £4.99, awesome. All Smurf fans will love having their very own Smurf to cuddle up in bed with at night.
The fun blue Smurfs have been around since I was a kid and have always been a firm favourite with young children. I should probably be embarrassed by this but I can still even sing the Smurf song. They were brought back to life and made popular again with the Smurf movie that hit the big screens a little while ago.
You can now bring the 3D movie to life for your little boy or girl with this 20cm cute and cuddly soft toy. He's perfect bedtime companion for any little Smurf fan. There's a Smurf that all of us can relate to and everyone has their favourite, get Brainy Smurf at half price if he's your child's favourite.