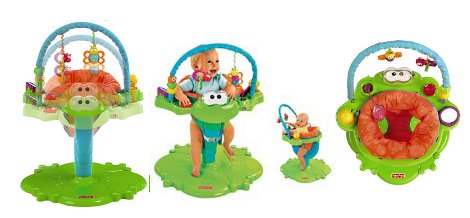 The Bounce and Spin Froggy bouncer is £39.99 at Toys R Us, a saving of £20.00. (Plus £4.95 delivery)
When my daughter went from comfortably sitting to happily crawling in a heartbeat. By four months she was comfortably crawling – we discovered when she crawled herself off the bed, to my shock and horror. She hated bouncy chairs and would throw herself out of hers, ending up like a tortoise on the floor. The Bumbo lasted her only a month or so, and the door bouncer made her scream.
We then found a Fisher-Price bouncer similar to this one, and finally she was happy. She could sit in it for at least half an hour happily playing, while I was able to hang up washing, do dishes, or put on dinner. It was a sanity saver. The only problem was that it was massive and took up most of the floor space of whatever room she was in.
That's why this Bounce and Spin Froggy bouncer from Fisher-Price seems like a great idea. It has lots of activities to keep babies busy, with spinning, bouncing, sliding, batting and more. The activities include:
360° rotating seat allows baby to reach all toys
Bat at toy bar with 2 deluxe toys
Chick with a jingle ball
Teether toy, mirror, and sliding ladybug
Fun rollerball that activates sounds and music
Assists in baby's development
Jumping fun rewarded with sounds and music
Removable machine washable seat pad
The free standing steel frame lets baby jump safely, and this bouncer is compact, so easy to store away. Suitable from when a child can sit unaided to 25lbs.
We found ours so useful, it's the only baby 'equipment' we've kept for should we, one day, maybe, perhaps, think of having another baby.

Thanks to crazyblondechick at HUKD