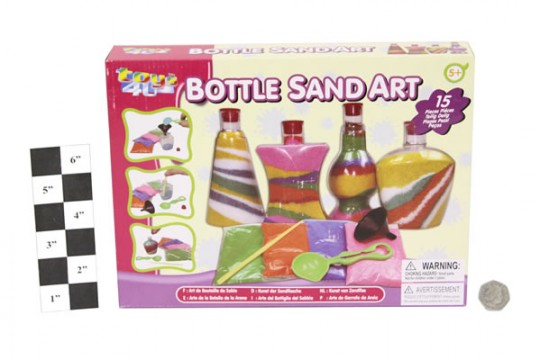 I was walking through Amazon's lovely children's toys section the other day when I came across the Bottle Sand Art by Kandy Toys and couldn't resist snapping it up. The pictures on the box look amazing. The final product was sort of awesome, but there are a couple of problems.
The set I bought I got for £4.50 off Amazon and it came with free Super Saver delivery and inside the box you got four bottles of varying sizes, a sand pourer, a sand sculpting stick, a green scoop and four packets of coloured sand. Do not expect the sand to be the same colour as in the box, it's not.
The set is very easy to use and my daughter absolutely loved it. We sat in the office and immediately started creating our sand art, erm, art. The first bottle we made was actually perfect. The sand didn't blur or mess and my daughter managed to get the colours to tilt in various directions. We have it displayed in the lounge and I have to say that I am really pleased with it.
The next bottle worked out almost as well, but by now our sand had been exposed to the atmosphere and it didn't seem to be having fun with that at all. By the time we hit the third bottle, however, the sand was sticking to the side and even though the sand piles inside were perfect, you couldn't see them through the horrible mess that was all over the bottle. I was very disappointed with that, and the fact that there wasn't enough sand for the final bottle to finish. My daughter was gutted.
Still, the price is good for what you get and it is such fun to make cool designs. I would recommend it, but pop the sand into airtight containers so it doesn't get too moist.