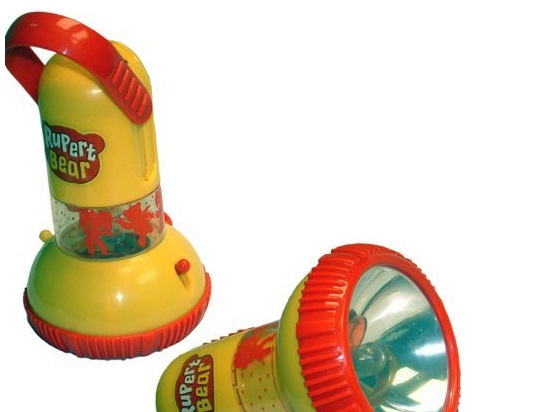 Rupert the Bear was one of my favourite characters as a child, and my son loved him as well. Torches are fun, and for any little one that's not quite OK with the dark, they're also reassuring. This Born to Play Rupert Magic Torch & Lantern is now £4.99, down from £9.99, at Mail Order Express.
You can also turn this Rupert Torch into a lantern with the pull up carry handle. The lamp projects silhouettes of different characters, which is fun and also reassuring for children to know they can see friendly, familiar, characters whenever they want.
The torch has red and yellow filters to change the torch light beam colour. I remember having something like this when son was three years old. Just the changing of colour amused him no end, and he really enjoyed seeing the effect this had on his favourite toys too.
There's not a lot of information on there, so it is hard to work out what size this torch is. It looks pretty chunky, and good for little hands to grip. If you do get one of these, do come back and let us know what it is like!