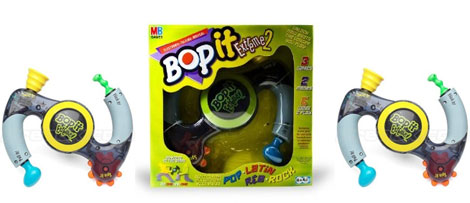 Amazon are currently selling this Bop It Extreme 2 for £10.99 instead of £19.99.
I can categorically guarantee that a Bop It Extreme 2 will keep everyone in your household amused, and entertained, for H O U R S.
I can say this with such confidence because we've had one for years and it's certainly earned its keep!  If you want to discover whether someone has a competitive streak, just give them a Bop It Extreme 2 and watch them try to beat both their high score and everyone else's.
There are four actions that you must perform in the correct order according to the instructions given to you by the Bop It!: twist it, pull it, BOP IT! (you wallop the middle bit for that) and flick it.
The more action sequences you complete correctly, the faster the Bop It! goes – if you can't keep up or you get a command wrong then YOU LOSE!
There are four different music styles: Pop, Rock, Latin, R&B and three games in two modes, so six ways to play in total.
There's also a headphone jack for practising in secret, or when everyone else can't STAND listening to the Bop It any longer.
You can play Bop It! by yourself or with others in its party mode.
This is seriously addictive and fun – kids LOVE it and grown ups love it even more; GET ONE, for a just over a tenner you really can't go wrong.
BOP IT!