Bondie Bird Playwrap Review

Imagine being so young that almost everything you see and do is a new experience. I sometimes put myself in the mind of my 6 month old daughter and try to think about how she feels when she sees all these new things.
It's what I was thinking about when I received one of the Bondie Bird playwraps to test out with my little baby girl. It's a sensory toy that is pretty versatile. The Bondie Bird Playwrap is designed so that you can wear it, drape it, stick it to a window, all the while enabling the child to play with all the attached bits and pieces.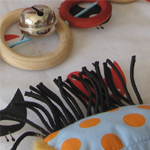 Some of the features of the playwrap: there are lots of labels round the edge, all with a different texture. There's a pretty butterfly that rustles delightfully, which my little baby girl really loves feeling. There's a strange spotty furry beanbag, which is decidedly odd. There's a cute cuddly cow with a mirrored base. There is a string of tinkly bells and wooden rings. All of these items can be detached from the playwrap, as they have little stud fasteners.
There are extra loops at the side which you can attach other toys to, such as your buggy books. And finally, there's a peekaboo mirror on the back of the toy.
I put the Bondie Bird playwrap round my neck, and sat baby on my knee for her to play in front of me. I felt pretty silly when the doorbell rang and I had to rush to the door, complete with toys hanging off my neck! But baby liked it, so that's all that matters.
I also use it when she is sitting in her Bumbo chair, it wraps nicely round that.
I have to say that my baby girl really likes this toy. She's just at the age where all these colours, sounds and textures are completely fascinating to her, and the playwrap stimulates a lot of the senses.
Though I haven't had the need to clean it yet, the base of the Bondie Bird Playwrap is machine washable, so I'm sure that will come in handy.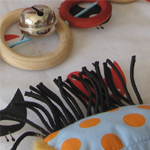 The picture at the top of this review is of my baby girl, sitting in her Bumbo chair, playing with the playwrap. Isn't she a cutie!
The Bondie Bird playwrap is due for UK release on the 15th of November 2010, so isn't available to buy in the shops just yet. But it will be out in time for Christmas!