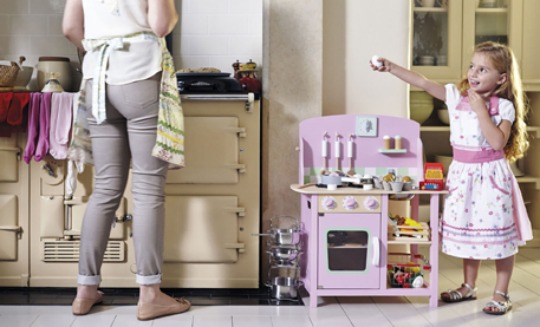 Play kitchens are a popular choice for parents when it comes to roleplay toys. Well, of the ones that are meant for children. The Great Little Trading Company have a sale of up to 50% off selected toys. Currently they are selling their exclusive Bloomsbury Wooden Play Kitchen for only £54. This was originally retailing for £90, so it's quite the bargain.
Now, nearly every single toy shop stocks play kitchens, but they tend to be quite babyish and plastic. This one is wooden, and looks closer to the real thing than many of the others on the market.
The Bloomsbury play kitchen is only available on the GLTC website. I do like it but unfortunately it is pink so is most probably better suited to girls.
It comes with wooden utensils, a teaching clock, salt & pepper pots, a wooden saucepan and an oven glove. The dials on the hob are clicking and can move, the shiny sink is removable and the taps can turn. These are nice little features to enhance your child's roleplay experience.
It appears to be sturdy and from reading the reviews, is deemed as great value at the current sale price.
You can have the Bloomsbury wooden play kitchen delivered for £3.95 to your front door.
Thanks to Michelle on Facebook.