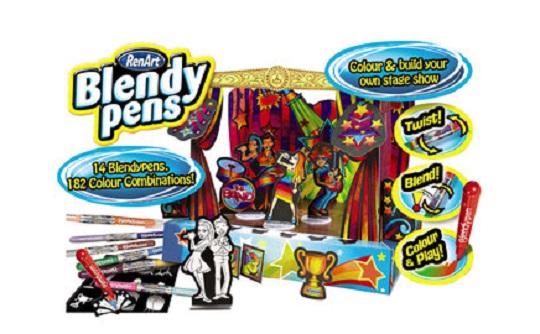 The Blendy Pens are a super cool addition to the art box and you can get them on sale at Toys R Us. They normally cost £14.99 but they're half price at the moment so you'll pick them up for £7.49, lovely.
With the summer holidays only a few months away (I know, it's ridiculous, where on earth has this year gone?) it's definitely time to start looking out for bargains to keep the kids entertained. A well-stocked arts and crafts box is always useful for rainy days when the kids can't get outside to play. They also come in handy when the kids are on their own and complaining that they're bored.
When boredom strikes whip out the Blendy Pen Big Stars and Stage Show and the kids can colour and create a busy rocking stage show. Simply colour the background scene, theatre curtains, props and figures. The set includes 14 Blendy Pens and the really cool part is that when you "blend" them you get 182 colour combinations!