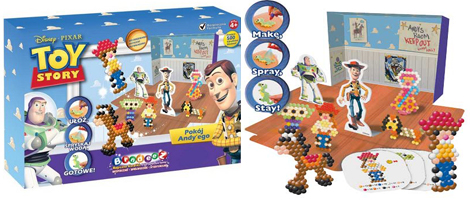 Apparently this is one of the top Christmas toys so, if you happen to be "in the know" then race on over to Argos and get yourself this Toy Story Jessie set for only £7.49 at Argos. The Toy Story themed Bindeez lets you make colourful designs of Jesse and other Toy Story characters.
I am not quite sure what these dudes are if I'm honest. They look a lot like the Aquabeads that I spoke about yesterday. All you have to do is choose your design – Jesse, Buzz, Woody etc – and then place the colourful Bindeez on it.
Then you add water to your creation and, voila!, you have yourself a Bindeez creation in Toy Story goodness. If you don't want to have to pay postage on these guys then why not Reserve & Collect instore. It could save you money if you're planning on collecting some other goodies at the same time.
Having a look at the other Bindeez sets available, this is definitely the cheapest of the bunch and will make some tots very happy come Christmas time.
Thanks to clgay at HUKD!