Bigsby Storybook And Buddy Review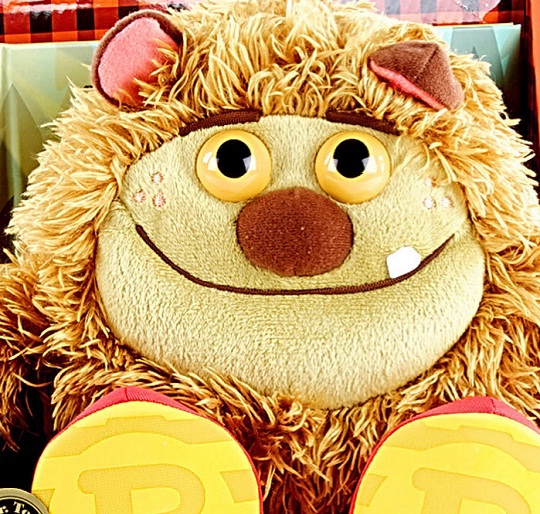 Merry Christmas! Or happy joy-to-everyone day if Christmas isn't your thing.
It's a toy, it's a book. Actually, it is both. This is the Bigsby Storybook and Buddy* (£19.99). A toy that makes use of the digital age in a way that's a first from what I've seen. By which I mean it actually uses technology in a meaningful way rather than for the sake of it.
But I'm running ahead of myself. Bigsby's a furry adorable fluffy creature, according to Hallmark at any rate, who is actually very shy (and not scary at all) and lives in the forest. He comes with his own interactive story book 'Bigsby's Best Friend', which tells the tale about how he meets Sam, who has just moved to town, and they become best friends sharing lots of fun and adventures. Bigsby can actually speak and join in as you read along-making storytelling telling with your little ones lots of fun. There are additional Bigsby stories to buy at £5.99 each.
Is this a good thing? Or a gimmick? Read on to find out.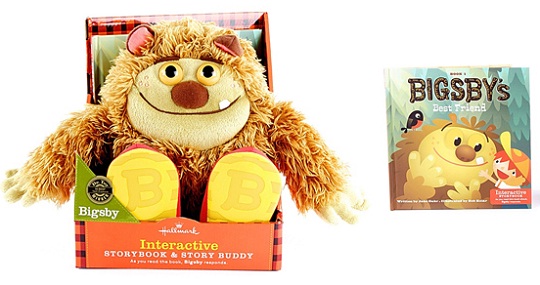 What surprised me first when I got the toy is its size. Bigsby was a lot bigger than I expected from the photos. The toy in fact measures 23cm high, 20.3cm wide and 24.1cm deep.
In the sturdy box, which Bigsby is flopping out of, there's also a storybook. Certain words in the book will activate your Bigsby, making him respond and join in with the storytelling.
Turning Bigsby on and off also activates him. Something you can have a lot of fun with when playing with your baby, or that your toddler can amuse themselves with. I should note here that Bigsby takes three AA 1.5V batteries, and he does come with a set included.
Bigsby reminded me of a Gruffalo. It has a similar shape, and a similar colour. There's no spines on his back, purple tongues or warts on his nose though. Just the right side of cute on the monster scale.
He's also a very cuddly toy, soft and gorgeous to snuggle up to. Or at least I thought so!! I think that's important in a toy for a baby, more so than the interactive aspect.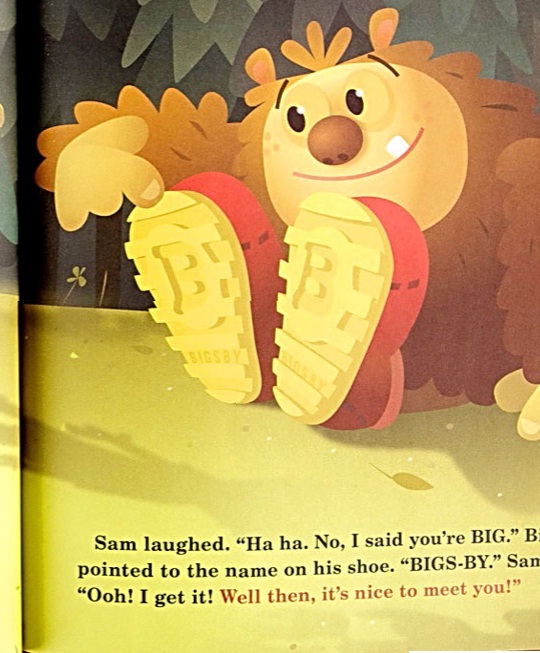 I tested the little chap out with some friends and their five month old baby. The little lad really took to Bigsby. But it was also a huge hit with his parents who, being a tad geeky, loved the interactive aspect. His mum says the lad enjoyed the storytelling part. He already likes looking at books and was delighted that his toy joined in. However as he doesn't really speak  or understand much English yet it was hard to get a truly informed opinion.
His mum says she also uses the display box still. This is fairly sturdy, and Bigsby can sit inside it a little like a chair in that the 'box' is open on top. It sits on a shelf by his bed, and this way she can keep both toy and book together in one place. That the box is fairly sturdy, and well made, is also very helpful.
I'm not totally sold on this toy/book combination given the price. At £19.99 it seems fair enough given the technology involved. But still pricey. So I was thrilled to find it in Hallmark's sale for £13.99. At that price I'd say it was a complete bargain.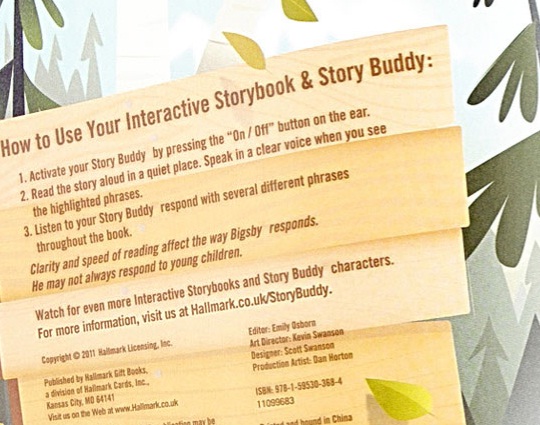 However, at £5.99 each I can't help but wonder how many parents will buy additional books. This might be something though that the person buying the toy can give for future birthday or Christmas presents.
Pros: cuddly, fun interactive features, good story book
Cons: a little pricey but good if you can find it on sale
Overall verdict: 8/10