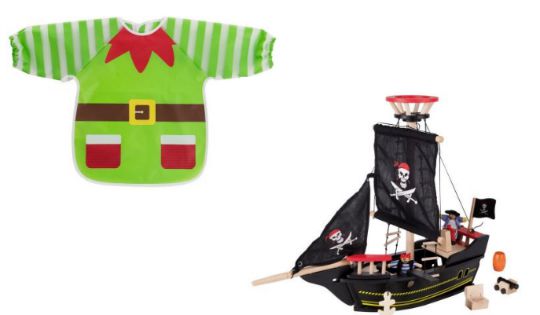 I was saying, just yesterday that I have been disappointed with Kiddicare and their lack of bargains. They used to churn out some cracking deals but there haven't been too many lately. Until today that is. WOW! I can safely say that they are back in my good books. There sale is on and you could start and finish your Christmas shopping with the toy bargains on offer.
Buzzing Brains toys are really popular and I for one LOVE them. The quality is super and when you can get them in the sale you are laughing. Check out these bargains: Buzzing Brains Wooden Pirate Ship* now only £8.49, Wooden Fishing Game*now only £3.19, Buzzing Brains My First Kitchen* now £4.99, Flag Dominoes* just £1.99 and Learn to Dress Ella Doll*now only £3.19.
It's not all toy bargains in the sale either. These Christmas Bibs are a must have! Why not add one or two to your order? Santa Bib* now 99p, Reindeer Bib* only 99p, Elf Coverall* only 99p and Santa Coverall*now 99p.
You can have your SALE bargains delivered for FREE when you spend £29.99 or more. Spending less? It'll cost you just £2.99.