Big LalaLoopsy Dolls £18.49 @ Smyths Toys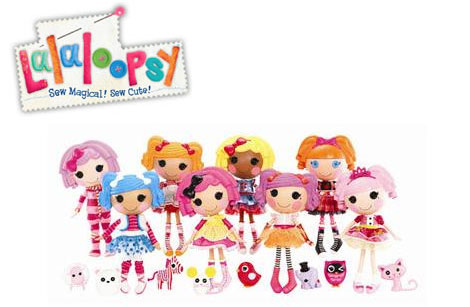 If your daughter is a fan of dolls then she may just fall in love with the LalaLoopsy dolls; Smyths Toys are currently selling the large ones for £18.49, they are retailing for around £25 with the other usual suspects like Amazon, Tesco and Toys R Us.
If you're a regular reader you'll know that I don't 'DO' dolls, but even I have to admit these LalaLoopsy dolls are CUTE!  They magically come to life (although not REALLY, you get that right?) and take on the personalities of the fabrics that were used to make them.
There are eight of them to collect and each has their own pet and comes with a collectible poster.
LalaLoopsy Pillow Featherhead loves milk and cookies, a good bedtime story and long naps. She was sewn on Jan 3rd from a baby's blanket and her pet is a sheep.
LalaLoopsy Bea SpellsaLot was sewn from a schoolgirls uniform and is a REAL smartypants, who always follows the rules and loves to talk; her pet is an owl.
Crumbs Sugar Cookie was made from pieces of baking apron.  Her pet is a mouse, she has perfect manners and she loves having people over for tea; she was sewn on National Cookie Day, 4 December.
OK, I'm utterly smitten with these large LalaLoopsy dolls - they are 30cms tall and utterly adoreable!
You'd better get yourself over to Smyths Toys pronto before they sell out.
Thanks to lilyvano at HUKD