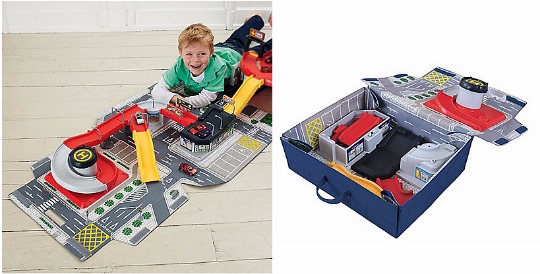 This Big City Carry-Along City was a big hit the last time we featured it on offer back in the summer, and I am not at all surprised as it's such a clever toy. But what's even better is that it is now the best price I have seen it, as it has been reduced further in the ELC Toy Sale, now down from £40 to only £16! That's a whopping 60% reduction.
The Big City range includes lots of different vehicles and playsets that are made by ELC, and this Carry-Along City is a play mat, road way and city-scape all in one...but the best bit is that it folds into itself to make it's own carry-along storage box! I love clever toys like this, and I swear that storage is one of my favourite words.
This has got roads, bridges, flyovers and a helipad for whizzing all those vehicles around, plus it has shops, roundabouts, ramps and parking spaces too. This set doesn't some with any cars themselves, but you can buy those separately or just use the ones you already have at home.
This Big City Carry-Along City was also for sale at £16 at Mothercare, but that went out of stock very quickly. This set was out of stock at ELC last night when I was going to write about it, but luckily it has come back in now. I have no idea how long that will be the case though so if you like this then I would be quick!
There are lots of other toys now reduced by at least 50%, with some now down to 60% off for the Black Friday weekend.
You can click and collect from ELC stores for free, home delivery for free when you spend £50, otherwise charges are from £3.95.