Ben 10 In-Line Scooter £11.49 @ Argos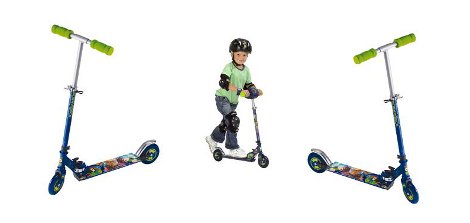 The BEN 10 Alien Force In-Line Scooter is on sale at Argos at £11.49, half it's original £22.99.
I love these little manual scooters for three reasons:
They keep children busy

They keep children warm

They make children tired
One of the worst things about winter is the cooped up, indoor, cabin fever feeling the whole family can sometimes succumb to. We get scratchy and irritable and really just need to let off a little steam.
Enter BEN 10 Alien Force In-Line Scooter.
With coloured printed grip tape, adjustable handlebar height and a rear foot brake, this authentic steel and plastic scooter is suitable for ages five and over, and up to 50kg. Ready to use its dimensions are (H)78, (W)33, (D)67cm and it folds up easily for storage, going down to (H)23, (W)12, (D)60cm.
Reviews from those who've bought it are also overwhelmingly positive, with everyone loving it, for ages 5 – 7 especially, so at £11.49, it sounds like a great toy to get the little ones active and using up some excess energy!
Thanks to emmablob at HUKD