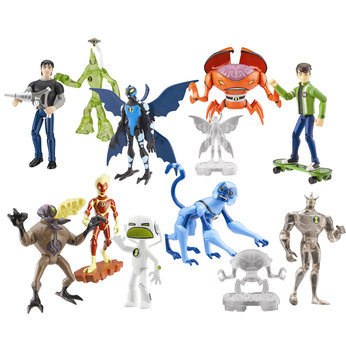 Toys R Us have got a great offer on this Ben 10 Alien Force 10 figure set for all you Ben 10 bargain hunters!
A few short months ago Ben 10 was a mystery to me. In fact, Lynley had to go through a very quick Ben 10 101 with me and I was amazed - it was like a whole other world! I am now a little more educated in the ways of the boy alien hunter.
Which is a good thing too as my youngest has recently become a very BIG small Ben 10 fan, and all of the paraphenalia that goes with kids characters soon makes a hefty dent in your bank balance.
This Ben 10 Alien Force 10 figure set comes with, erm...10 figures (genius!) and all together they should be setting you back a penny under 50 quid, so to pick up the lot for £24.99 is a bit of a bargain!
They include all the usual suspects and favourites - Ben (obviously), Big Chill, Spidermonkey and Heatblast et al - and they all measure about 10cms in height.
I have no idea whether this offer is up for grabs in store; if it's not then standard delivery from Toys R Us is £4.95.
Thanks to sami1709 over at HUKD!