Belling Foldaway Kitchen £29.99 @ The Entertainer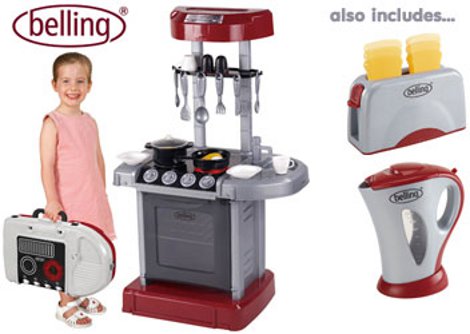 The Belling Foldaway Kitchen is £29.99 at The Entertainer at the moment – 50% off the old price of £59.99.
I dream of a wooden kitchen for my daughter, but I must say, this Belling Foldaway Kitchen made me stop and think about it. It seems like really good value to me!
This kitchen unit features a sink, hob, hot plate  and oven and there are sound effects and talking phrases to enhance the role play experience  - although I always wonder if that stands in the way of imagination? The kitchen also comes with a kettle, toaster, and over 20 accessories.
Amazingly, the whole kitchen folds up for storage or transport, which I think is pretty fantastic.
The reviews on this are actually quite amusing as some reviewers say it folds away easily, while others say it's fiddly and time consuming, so I guess it depends on your expectation and skill, but by 'fold away' it does seem to mean 'disassemble'.  While some praise it for being sturdy, others complain that it's flimsy. So, again – it seems dependent on expectation!
Either way, it's a good price if you're after a play kitchen.