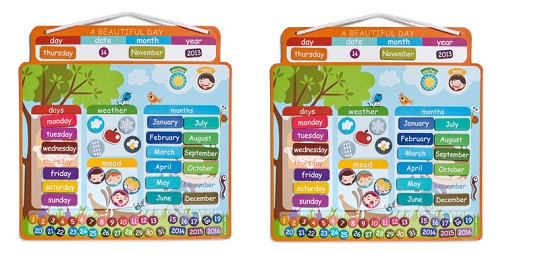 The Great Little Trading Company is holding a January sale with up to 50% off toys and games. One of the things I found in the sale was this absolutely adorable Beautiful Day calendar that has dropped from £20 to £17. It's not a huge price reduction, but it is so stunning.
A magnetic calendar is a great way to introduce your kids to the concepts of time, dates and weather; this gorgeous one also lets them express their mood! The beautiful storage box it arrives in makes it a wonderful idea for a present and it features 68 magnetised cardboard pieces and hanging cord.
If this is not your cup of tea, they have also reduced the price on the Magnetic Reward Chart from £16 to £13.60, and the Family Wall Calendar 2014 from £10 to £8. So there's a few ideas to choose from there in the sale.