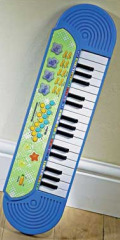 We've already featured the Argos half-price deal on the Beanstalk Electronic Guitar, and now you can kit out an entire pint-sized pop-band thanks to this offer on the accompanying Electronic Keyboard, also available half-price at Argos now.
This cute keyboard usually retails at £9.99 at Argos, just like the Guitar, but both items are now half price at a pocket-friendly £4.99 each. That means you can set up a rock-tastic duo with change from a tenner.
Suitable for children aged 3 years and over, it requires 3 x AA batteries which are not included, so don't forget those or the only thing anyone will be playing come Christmas Day is the blues!
Its features include a keyboard made up of 32 piano keys, 8 different kinds of rhythms (blues, rock, slow rock, new rock, disco, march, waltz and samba) as well as 6 built-in demo songs, music recording and playback function.
My lads are more athletic than musical; their favourite toys tend to be things they can kick, catch or throw, but at these prices I'm definitely tempted to nab these now and put them away for extra birthday treats. If nothing else, it would be nice to hear the odd tune instead of just cries of GOAL! If there are musical maestros in your family, this looks like a must-have.
With thanks to whizzkid at HDUK.