Battery Powered Mini Cooper £129.99 Was £259.99 @ Toys R Us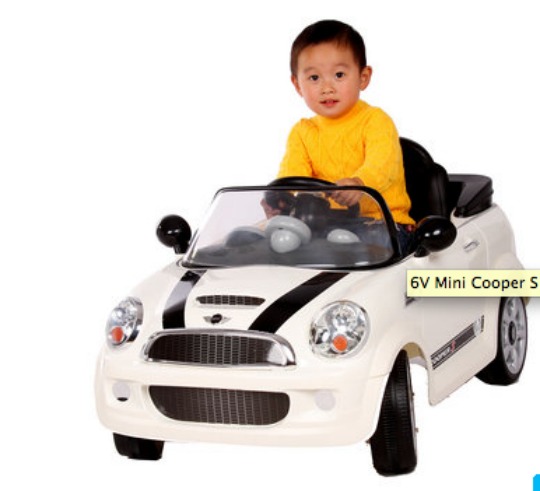 I am pretty certain this is the only way I'll ever be able to afford to buy myself a snazzy white Mini Cooper - this battery-powered replica Mini Cooper is half price at Toys R Us right now, reduced from £259.99 to £129.99.
Granted, it's still not what you'd call cheap but that's a pretty serious saving. Can you imagine the wide-eyed wonder that would greet this baby under the tree on Christmas morning?
Be warned though - it is unsuitable for children under 3 years due to its maximum speed - it reaches up to 203 kmh. It also has a maximum weight recommendation of 35kg. (That rules me out then. Shame.)
The battery-powered replica Mini Cooper comes with a 6V rechargeable battery and charger, as well as working sound and lights, forward and reverse gears, and a foot-operated accelerator.
There are only nine customer reviews of this item on the Toys R Us site but it has scored an average of 4 out of a possible 5 stars. Here's a fairly typical review:
"Looks great, now my daughter has the same car as her Dad... she loves it!!!"
You can also get free delivery on this too. I'm guessing they don't just drive it over to your house though.