Batteries: 3 For 2 Deals @ Boots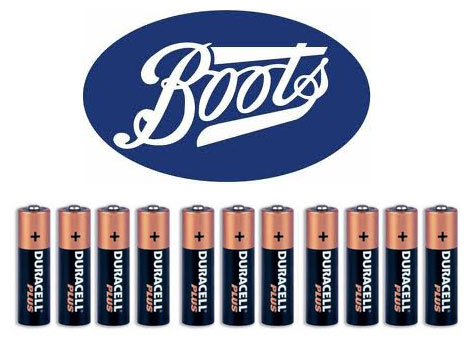 If your household is anything like mine, it gets through batteries at an obscene rate. Boots currently have three for two deals running on a huge selection of batteries.
There's nothing more frustrating than something running out of power, you go to the battery drawer (third drawer down in the kitchen) and discover an empty box because the Teenagers took the last AAAs and didn't TELL YOU!!!
Wireless keyboards, wireless mice, Wii remotes, TV remotes, Xbox controllers, radio controlled anythings, Vtech toys, Leaprfrog toys, cameras! The list of things that love to munch their way through batteries goes on and on.
Double A, Triple A, the big chunky ones for torches whose size name I can never remember, the 9V square ones, flat round watch batteries, rechargeable batteries! There are just as many different types of battery species as there are things to put them in!
HURRAH for Boots who are running three for two price deals on all SORTS of different batteries, so now you can stock up, replace or add to your household battery collection, save some cash and collect Boots Advantage points whilst your at it.