DC Comics 4 Figure Pack £34.99 (was £59.99) @ Smyths Toys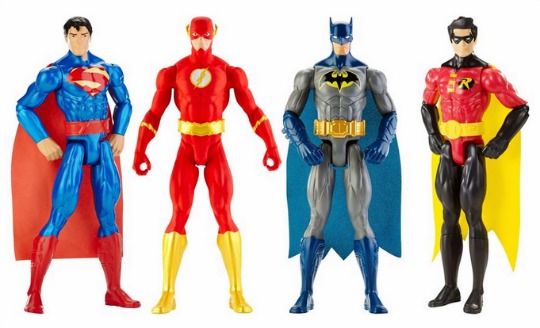 Are your kids Marvel or DC fans? I think most children have their favourite superheroes, and if yours are fans of Batman or Superman then this would make a great gift to put away for Christmas. This set of 4 DC Comics Figures has an RRP of £59.99, but is down to £34.99 at Smyths Toys, and that includes free delivery as well.
If you are thinking that just shy of £35 is a lot for action figures then take a look at the size - these are not your teeny tiny plastic fellas, these are 12 inch high whoppers! They're the same size as the big Marvel Titan figures if your kids have any of those, so these are substantial toys. In the pack you get Superman, Batman, The Flash, and Robin the Boy Wonder (though we'd all rather have The Joker, right?).
These large figures sell for around £15 each, which is why the pack has that RRP of £59.99, so to get them for £8.75 per toy is a great reduction, and way cheaper than anywhere else I can find them.
With next year's Batman v Superman film coming out I'm willing to bet that there will be lots of children who will be begging for these guys, and shoving Spidey to the back of the cupboard (well, maybe not that...).
This is a great gift for a great price and will be appearing under our Christmas tree in a few short weeks. Just one question though.. where's Wonder Woman?