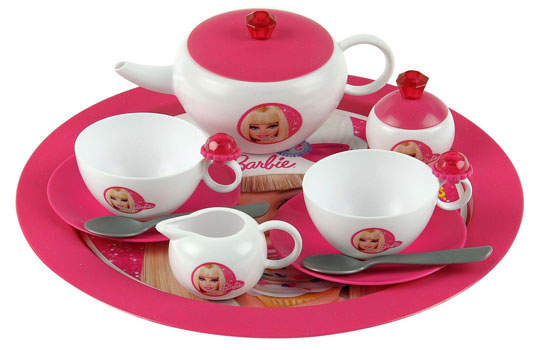 If you're in the market for a little Barbie tea set then you should head over to Amazon - they're selling this one for £5.91 instead of £13.99.
Oooh I always find it so hard to write about things like this Barbie tea set - not only do I loathe all things Barbie, but I always much preferred making tea with real tea sets...pretending just seemed like such a waste of time, AND didn't earn you any brownie points either!
This Barbie tea set features a tray, a tea pot and cups with saucers (I'm glad about that as it wouldn't be much of a tea set without those things!), along with spoons, a milk jug and a sugar bowl.
There are a couple of reviews, which have this to say about the Barbie tea set:
My wee girl plays with this for ages along with her toy kitchen great role play toy she thinks she is all grown up

My grand-daughter has lots of fun with this, not very big but ideal for a 5 year old. Would recommend 
All of the usual Amazon delivery options apply here: free delivery with the SuperSaver option, if you're happy to wait a few days, or a few extra of your hard-earned Great British pounds if you're not!
Thanks to thomascomer at HUKD